Five Great Short Stories (Dover Thrift Editions) (Paperback)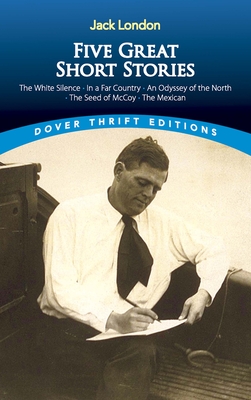 $4.00
Available to Order
(Due to distributor limitations, sales of this book are final - it cannot be returned to us.)
Description
---
One of the most widely read of all American writers, Jack London (1876-1916) based his novels and stories on the experiences and observations of a life that took him from the frozen wilds of the Klondike to the sun-drenched atolls of the South Seas. This volume presents a selection of five of his best stories, each brimming with the energy, color, and drive typical of London's vivid story-telling style.
The White Silence, In a Far Country, and An Odyssey of the North are suspenseful tales that bring the harshness of the frozen wilderness of the north powerfully to life. The Seed of McCoy reflects London's experience as a sailor in the South Pacific. The last story, The Mexican, displays London's celebrated talents as a sportswriter in this sympathetic portrayal of a prizefighter working for the success of the Mexican Revolution. Here are five stories that epitomize Jack London's mastery of the adventure story and the compelling prose style that influenced generations of writers.
About the Author
---
Novelist, journalist, and social activist Jack London (1876-1916) rose from abject poverty to international fame. The bestselling, highest-paid, and most popular author of his era, London created a substantial body of work in his short life, drawing upon his experiences as a cannery worker, sailor, railroad hobo, and prospector.