Legend (Hardcover)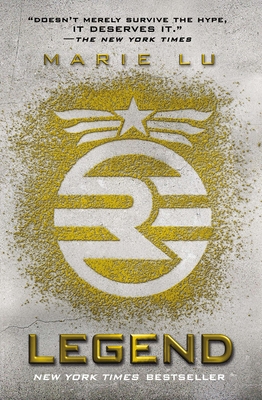 Staff Reviews
---
Marie Lu's debut novel is based on Les Miserables. June is a 15-year-old prodigy in the Republic, the militant government of what remains of the western U.S. some time in the future. When her older brother is murdered, June seeks to hunt down his killer. She believes it's Day, a boy from the slums whose cunning in resisting the Republic is, well, legendary. Once she finds him, however, she discovers he might not be a killer, and his reasons for doing what he does aren't simply to overthrown the government, but to protect his family. The first book in a gripping series.
— Olivia
Winter 2012 Kids' Next List
---
"Born into an elite family in one of the Republic's wealthiest districts, 15-year-old June is a military prodigy committed to her country. Her complete antithesis is 15-year-old Day, the country's most wanted criminal and the prime suspect in the murder of June's brother. June sets out to capture Day, but, in a shocking turn of events, the teens discover a sinister conspiracy that pits both of them against the government. Filled with action and suspense!"
— Ellen Klein, Hooray for Books!, Alexandria, VA
Description
---
A New York Times bestseller!

What was once the western United States is now home to the Republic, a nation perpetually at war with its neighbors. Born into an elite family in one of the Republic's wealthiest districts, fifteen-year-old June is a prodigy being groomed for success in the Republic's highest military circles. Born into the slums, fifteen-year-old Day is the country's most wanted criminal. But his motives may not be as malicious as they seem.

From very different worlds, June and Day have no reason to cross paths - until the day June's brother, Metias, is murdered and Day becomes the prime suspect. Caught in the ultimate game of cat and mouse, Day is in a race for his family's survival, while June seeks to avenge Metias's death. But in a shocking turn of events, the two uncover the truth of what has really brought them together, and the sinister lengths their country will go to keep its secrets.

Full of nonstop action, suspense, and romance, this novel is sure to move readers as much as it thrills.
About the Author
---
New York Times bestselling author Marie Lu (www.marielu.org) graduated from the University of Southern California and jumped into the video game industry, working for Disney Interactive Studios as a Flash artist. Now a full-time writer, she spends her spare time reading, drawing, playing Assassin's Creed, and getting stuck in traffic. She lives in Los Angeles, California (see above: traffic), with one boyfriend, one Chihuahua mix, and two Pembroke Welsh corgis.
Praise For…
---
Praise for Marie Lu's New York Times bestseller LEGEND:
 
From ENTERTAINMENT WEEKLY:
"Fine writing and excellent execution. Sequel, please!"

 
From THE NEW YORK TIMES:
"Legend doesn't merely survive the hype, it deserves it."
 
 
From USA TODAY:
"Marie Lu's dystopian novel is a 'Legend' in the making."
 
 
From THE LOS ANGELES TIMES:
"an action-packed love story full of inventive details."
 
 
STARRED REVIEW from PUBLISHERS WEEKLY:
"Lu's debut is a stunner. . . raises hopes high for the sequels to come. "
 
 
STARRED REVIEW from KIRKUS REVIEWS:
 "A gripping thriller in dystopic future Los Angeles. This is no didactic near-future warning of present evils, but a cinematic adventure featuring endearing, compelling heroes."
 
 
STARRED REVIEW from BOOKLIST:
 "[D]elicious details keep pages turning . . . you've got the makings for a potent sequel."
 
 
STARRED REVIEW from VOYA:
 "A fast-paced blend of action and science fiction (with only a hint of potential romance) means that this one will likely appeal to male and female readers alike.  Debut author Lu has managed a great feat—emulating a highly successful young adult series while staying true to her own voice. Legend will give Hunger Games fans something worthwhile to read."
 
 
STARRED REVIEW from LIBRARY MEDIA CONNECTION:
 "This book stands out . . ."
 
 
FROM KAMI GARCIA, New York Times bestselling co-author of the Beautiful Creatures trilogy
"A romantic thriller set in a post-apocalyptic world where nothing is what it seems—Legend is impossible to put down and even harder to forget."
 
 
FROM SARAH REES BRENNAN, author of The Demon Lexicon trilogy
"A compelling dystopic world, with diverse characters, high tension and political intrigue. [If] you liked the Hunger Games, you'll love this." 

------------------------------------------------------------------------------------------------------

Don't miss the highly-anticipated sequel, PRODIGY!

Featured on ENTERTAINMENT WEEKLY'S MUST-LIST!
 

From THE LOS ANGELES TIMES:
"Marie Lu has beaten the curse with Prodigy. . . it has all the chivalry of Robin Hood and all the shine and grime of Blade Runner . . . The well-drawn worlds, political undercurrents and the believability of the characters make it all feel fresh . . . Lu proves that a Book 2 needn't play second fiddle, providing intrigue and deep pleasure all its own."
 
 
From THE NEW YORK JOURNAL OF BOOKS:
". . . clear your calendar to allow yourself the luxury of reading this book in one or two sittings. You will be shaken . . ."
 
 
STARRED REVIEW from PUBLISHERS WEEKLY:
 "Lu opts for a high simmer of intrigue in her sequel to Legend…taut and insightful."
 
 
STARRED REVIEW from SHELF AWARENESS:
"Stunning follow-up to Legend . . . The thrilling action and futuristic settings are sure to please fans of Divergent."

  — Marie Lu