I Love You Sun / I Love You Moon: Te amo Sol / Te amo Luna (Board book)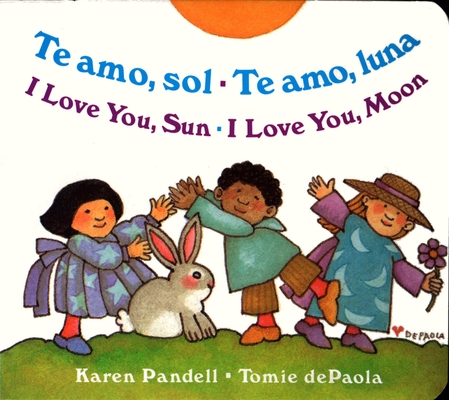 Description
---
A charming board book introducing children to basic animal and nature concepts in both English and Spanish, as well as a lesson in gratitude and tenderness, by the Caldecott Honor-winning author of Strega Nona.
 
In this simple yet profound story, kids connect with the world around them by pointing at the sol/sun, watering a flor/flower, and feeding a carrot to a conejo/bunny, all the while saying "Te amo/I love you" to each one—and sharing a message of care for all creation. With artwork in Tomie dePaola's adorable signature style, this is destined to become a favorite addition to every toddler's library.
About the Author
---
Tomie dePaola (www.tomie.com) was the acclaimed author and/or illustrator of more than 200 books for children. He received the 2012 Original Art Lifetime Achievement Award given by the Society of Illustrators, and he was the recipient of the Children's Literature Legacy Award, given for a substantial and lasting contribution to children's literature. He also received the Newbery Honor Award for 26 Fairmount Avenue and the Caldecott Honor Award for Strega Nona. He was awarded the Smithson Medal (from the Smithsonian) and the Regina Medal (from the Catholic Library Association), and was designated a "living treasure" by the state of New Hampshire. His Brava, Strega Nona, Strega Nona's Harvest, and Strega Nona's Gift were all New York Times bestsellers. He was the first author known primarily for children's book writing to be awarded the Sarah Josepha Hale award, a prestigious distinction in writing by a New Englander.