The Disuniting of America: Reflections on a Multicultural Society (Paperback)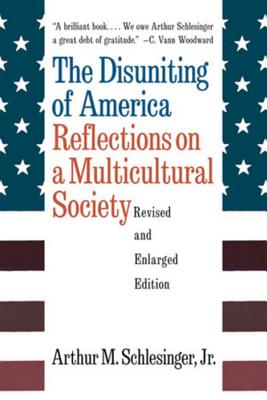 Description
---
The New York Times bestseller that reminded us what it means to be an American is more timely than ever in this updated and enlarged edition, including "Schlesinger's Syllabus," an annotated reading list of core books on the American experience.
The classic image of the American nation — a melting pot in which differences of race, wealth, religion, and nationality are submerged in democracy — is being replaced by an orthodoxy that celebrates difference and abandons assimilation. While this upsurge in ethnic awareness has had many healthy consequences in a nation shamed by a history of prejudice, the cult of ethnicity, if pressed too far, threatens to fragment American society to a dangerous degree. Two-time Pulitzer Prize winner in history and adviser to the Kennedy and other administrations, Arthur M. Schlesinger, Jr., is uniquely positioned to wave the caution flag in the race to a politics of identity. Using a broader canvas in this updated and expanded edition, he examines the international dimension and the lessons of one polyglot country after another tearing itself apart or on the brink of doing so: among them the former Yugoslavia, Nigeria, even Canada. Closer to home, he finds troubling new evidence that multiculturalism gone awry here in the United States threatens to do the same. "One of the most devastating and articulate attacks on multiculturalism yet to appear."—
Wall Street Journal
"A brilliant book . . . we owe Arthur Schlesinger a great debt of gratitude."—C. Vann Woodward,
New Republic
About the Author
---
Arthur M. Schlesinger (1917 - 2007) was a historian who served as special assistant to President John F. Kennedy. Among his many works are the Pulitzer Prize-winning The Age of Jackson and A Thousand Days: John F. Kennedy in the White House.