Machine, Platform, Crowd: Harnessing Our Digital Future (Hardcover)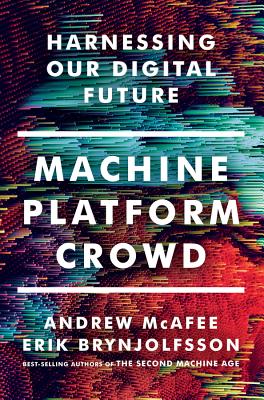 Description
---
From the authors of the best-selling The Second Machine Age, a leader's guide to success in a rapidly changing economy.
We live in strange times. A machine plays the strategy game Go better than any human; upstarts like Apple and Google destroy industry stalwarts such as Nokia; ideas from the crowd are repeatedly more innovative than corporate research labs.
MIT's Andrew McAfee and Erik Brynjolfsson know what it takes to master this digital-powered shift: we must rethink the integration of minds and machines, of products and platforms, and of the core and the crowd. In all three cases, the balance now favors the second element of the pair, with massive implications for how we run our companies and live our lives.
In the tradition of agenda-setting classics like Clay Christensen's The Innovator's Dilemma, McAfee and Brynjolfsson deliver both a penetrating analysis of a new world and a toolkit for thriving in it. For startups and established businesses, or for anyone interested in what the future holds, Machine, Platform, Crowd is essential reading.
About the Author
---
Andrew McAfee is the co-director of the MIT Initiative on the Digital Economy and co-author of the best-selling The Second Machine Age and Machine, Platform, Crowd: Harnessing Our Digital Future. He and co-author Erik Brynjolfsson are the only people named to both the Thinkers 50 list of the world's top management thinkers and the Politico 50 group of people transforming American politics.

Erik Brynjolfsson is the director of the MIT Initiative on the Digital Economy and Schussel Family Professor of Management Science at the MIT Sloan School. He is the author of several best-selling books with co-author Andrew McAfee, and one of the world's most cited scholars in information systems and economics.
Praise For…
---
For an astute romp through important digital trends, Machine | Platform | Crowd is hard to beat. 

— The Economist

A clear and crisply written account of machine intelligence, big data and the sharing economy. But McAfee and Brynjolfsson also wisely acknowledge the limitations of their futurology and avoid over-simplification.
— John Thornhill - Financial Times

This is a book for managers whose companies sit well back from the edge and who would like a digestible introduction to technology trends that may not have reached their doorstep--yet.
— Randall Stross - Wall Street Journal

On their own, AI, platforms, and crowds are all transformative forces. That they're evolving in parallel means we're beginning to experience a new era of networked disruption, where productive but disorienting change becomes the status quo. For citizens, entrepreneurs, companies, and governments that want to successfully navigate this new world, the first step lies in finding reliable and prescient guides. Andrew and Erik are two of the best.
— Reid Hoffman, partner at Greylock Partners, cofounder of LinkedIn, and coauthor of The Start-Up of You

The authors aptly illustrate how the extraordinary progress of
technology is reshaping our lives, and they share powerful ideas relevant to
world leaders. Nobody knows exactly how this future will unfold. What we do
know is that the disruptive power of technology must be seized as an
opportunity to design our future. The book compels us to ponder: will we apply
technology to help accelerate development, improve living standards, and foster
inclusive growth? Will we take advantage of its power to cut red tape, invest
in education, unleash entrepreneurial energy, and create new kinds of jobs? The
book is a must-read for policymakers who seek a road map for how to combine the
strengths of humanity and technology to build a better future for their
citizens.
— Christine Lagarde, managing director of the International Monetary Fund

Such is the speed of development in these emergent technologies that it is refreshing to take a step back and a look at some of the ways in which our lives and careers are changing – and will continue to change – at a fundamental level. Happily this volume by Andrew McAfee and Erik Brynjolfsson offers exactly this opportunity, using their deep knowledge of the business and technology sectors to build a detailed, cogent and conversational guide to where we are and where we are going. The story is warmly and richly told, using footnotes approaching a third of a page in length when things get really exciting, and amply supported by notes, references and links. This book is in many senses a primer, a thorough grounding for the digital warrior in the driving forces of the 21st-century economy.
— Times Higher Education

Even Silicon Valley is surprised by the speed and scope of change today. The best way to stay on top of it is to understand the principles that will endure even as so much gets disrupted. This book is the best explanation of those principles out there.
— Eric Schmidt, former CEO of Google, executive chairman of Alphabet, Inc.

The digital revolution we're entering can be unsettling, but McAfee and Brynjolfsson show how these incredibly powerful technologies will make our choices more important than ever. Machine | Platform | Crowd is a road map for leaders to make wise choices as they navigate this new world.

— Arianna Huffington, former president and editor-in-chief of the Huffington Post Media Group, author of Thrive and The Sleep Revolution

The authors explain the whys and hows soberly, answering just about every question on AI you could ask: which channels it will colonise next, whether we'll still need physical products in a virtual world and how bitcoin will change commerce, among others. Throughout, they are eloquent and informed. They don't think humans will be obsolete, but they also don't pretend the solutions are simple.
— People Management