A Line in the Sand: The Anglo-French Struggle for the Middle East, 1914-1948 (Hardcover)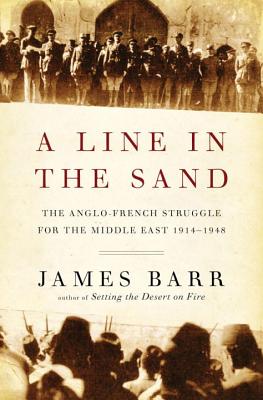 $29.95
Email or call for price.
Description
---
The untold history of the French-British rivalry that shaped the Middle East, from Lawrence of Arabia to the violent birth of Israel.
It was the middle of World War I. Two men—one, a visionary British politician (Mark Sykes), the other, a veteran French diplomat (François Georges-Picot)—secretly agreed to divide the Middle East. Britain would have "mandates" in newly created Palestine, Transjordan, and Iraq; France in Lebanon and Syria. For the next thirty years, this divide would make uneasy neighbors of two great powers and irreparably shape the Middle East. James Barr combs recently declassified French and British government archives and unearths a shocking secret war and its powerful effect on the local Arabs and Jews. He follows politicians, diplomats, and spies through intrigue and espionage to show us T. E. Lawrence's stealth guerrilla terror campaigns, and he journeys behind closed doors to discover why Britain courted the Zionist movement. Meticulously well researched and character-driven,
A Line in the Sand
crescendos with the violent birth of Israel, all along the way brimming with insight into a historically volatile region.
About the Author
---
James Barr is the author of Setting the Desert on Fire. During the research for A Line in the Sand he was a Visiting Fellow at St Antony's College, Oxford. He lives in London.