Guts & Glory: World War II (Paperback)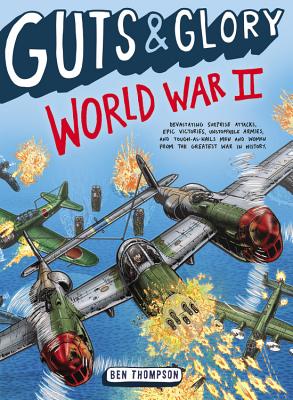 Other Books in Series
This is book number 3 in the Guts & Glory series.
Description
---
Discover legendary commanders, tremendous fights, elite soldiers, and courageous individuals whose deeds truly made the difference in this jaw-dropping guide to the biggest war the world has ever seen.

From massive aerial battles that clouded the skies with planes to deathly secret operations deep behind enemy lines, the events of World War II are some of the most awe-inspiring of all time.

Packed with trivia, epic battles, and amazing illustrations, World War II comes alive for kids like no textbook can in this account from Ben Thompson that's perfect for history buffs and reluctant readers.
About the Author
---
Ben Thompson is the author of Guts & Glory: The American Civil War, Guts & Glory: The Vikings, Guts & Glory: World War II, and Guts & Glory: The American Revolution. For more than ten years, he has been producing humorous, history-related material, including articles for publications such as Military Times and for organizations like the American Mustache Institute. Ben is named after Benjamin Franklin, but this hasn't bestowed him with any supernatural knowledge of the American Revolution. He had to research it the old-fashioned way. He invites you to visit his website at gutsandgloryhistory.com.
Praise For…
---
Praise for Guts & Glory: The American Civil War:
"The book's greatest strength is its colloquial storytelling.... Thompson's passion for his subject is infectious.... An easy, breezy series opener that should help create a few new history buffs."—Kirkus Reviews

"Action-packed.... Thompson adopts an urgent and sometimes humorous tone that conveys infectious enthusiasm.... A rousing introduction to this defining conflict that makes the history appealing and relatable."
—Publishers Weekly

"Thompson displays a solid knowledge of the Civil War.... He ably covers major battles, campaigns, and figures...mixing informational passages and fact boxes with colorful action sequences."—School Library Journal

"An entertaining overview.... What brings these events to life, particularly for reluctant readers, is Thompson's spirited, conversational narration.... Should keep students engaged."
—Booklist

Praise for Guts & Glory: The American Revolution:
"Thompson's books are a meaty delight. Digestible chapters are packed with info, one-page bios hit the highlights of their subject's lives, and sidebars full of interesting tidbits are all part of the appeal of the nonfiction Guts & Glory series.... A very satisfying read that even adults will find useful."—Booklist