Saints of the Shadow Bible (A Rebus Novel #19) (Hardcover)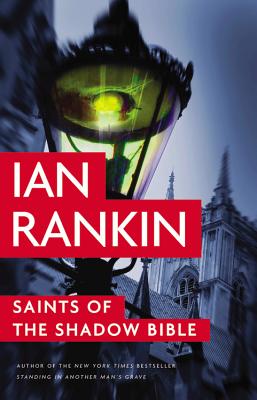 Other Books in Series
This is book number 19 in the A Rebus Novel series.
Description
---
Rebus and Malcolm Fox go head-to-head when a 30-year-old murder investigation resurfaces, forcing Rebus to confront crimes of the past.

Rebus is back on the force, albeit with a demotion and a chip on his shoulder. He is investigating a car accident when news arrives that a case from 30 years ago is being reopened. Rebus's team from those days is suspected of helping a murderer escape justice to further their own ends.

Malcolm Fox, in what will be his last case as an internal affairs cop, is tasked with finding out the truth. Past and present are about to collide in shocking and murderous fashion. What does Rebus have to hide? And whose side is he really on? His colleagues back then called themselves "The Saints," and swore a bond on something called the Shadow Bible. But times have changed and the crimes of the past may not stay hidden much longer -- and may also play a role in the present, as Scotland gears up for a referendum on independence.

Allegiances are being formed, enemies made, and huge questions asked. Who are the saints and who the sinners? And can the one ever become the other?
About the Author
---
Ian Rankin is a #1 international bestselling author. Winner of an Edgar Award and the recipient of a Gold Dagger for fiction and the Chandler-Fulbright Award, he lives in Edinburgh, Scotland, with his wife and their two sons.
Praise For…
---
PRAISE FOR
STANDING IN ANOTHER MAN'S GRAVE:
"Rankin bangs out a rich, rowdy prose...Rebus has become one of the great modern cops, a kind of Scottish cousin to Michael Connelly's Harry Bosch."—
Patrick Anderson, Washington Post
"John Rebus remains one of crime fiction's crankiest, most interestingly complex figures....We can rejoice in Rebus's return--the mean streets of Edinburgh are better for it."
—
Adam Woog, Seattle Times
"Absorbing....Rankin is a master of the mystery universe."
—
Carole E. Barrowman, Milwaukee Journal Sentinel
"Rebus remains as fascinatingly complex and gruffly engaging as ever. Retirement will not suit him, or Rankin's readers."
—
Dan DeLuca, Philadelphia Inquirer
PRAISE FOR
SAINTS OF THE SHADOW BIBLE
"Longtime fans of the series will savor every nuance in the subtle interplay between characters here, but Rankin doesn't forget the thriller plot, either, corkscrewing the narrative into a surprising and satisfying conclusion. Hats off to a writer who can keep a long-running series fresh by upsetting our expectations and rummaging ever deeper into the rag-and-bone shop of his characters' hearts."—
Booklist
"[There is] real joy in watching Fox and Rebus dance around each other, acknowledging a burgeoning respectful rapport in spite of themselves, while the ace Siobhan Clarke - more please, Mr. Rankin! - shoulders new responsibilities."
—
Boston Globe
"Ian Rankin issuch a practiced and successful writer...If anything, he is at the top of his game, and
Saints of the Shadow Bible
is one of the best novels he has produced."—
BookReporter
"Rankin shows no signs of losing steam with John Rebus...his interaction with Malcolm Fox works to build empathy for both characters, as fans discover a side of Fox not seen before...Rankin's gift with dialogue, his wit and raw examination of human nature continue to intensify, resulting in a resonant reading experience for both seasoned series devotees and new Rebus recruits."
—
Shelf Awareness
"This might be the best detective novel of the year."
—
Dayton Daily News