DJ Rising (Paperback)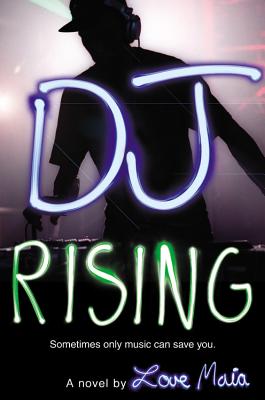 Description
---
The first thing I hear is music. The first thing I've always heard is music.

Meet Marley, an unassuming high school junior who breathes in music like oxygen. In between caring for his heroin-addicted mother, and keeping his scholarship at a fancy prep school, he dreams of becoming a professional DJ.

When chance lands Marley his first real DJ job, his career as "DJ Ice" suddenly skyrockets. But when heart-rending disaster at home brings Marley crashing back down to earth, he is torn between obligation and following his dreams.
About the Author
---
Love Maia has worked construction, flown planes, and starred in an infomercial. As a writer, she relates deeply to her main character, Marley, sharing his passion for music and his belief in dreaming big. She loves the freeing energy of the club world, as well as pizza, kickboxing, butterflies, death metal, and underground hip-hop. When not hard at work on her next novel, Love can be found playing drums in an alternative rock band at various bars and clubs around San Francisco.
Praise For…
---
* "This gritty, pulsating peek into a lesser-known world reverberates with the energy of a thumping dance club."—Booklist, starred review

"[R]eaders will relish reading about Marley's rise to fame despite his harrowing situation. A new voice worth watching."—Kirkus

"Passionate, insightful, and beautifully told."—Edward Bloor, author of Crusader and Tangerine

"I've got a mad beat in my heart for DJ Rising. It goes LOVE LOVE LOVE LOVE LOVE LOVE LOVE LOVE LOVE LOVE."—Julie Anne Peters, author of Luna and Keeping You a Secret

"Love Maia spins the perfect mix in DJ Rising. Dreams, ambition, sadness, blooming love, and ultimately hope. I adore this novel. Marley's beautifully told story will steal your heart."—Matt de la Pena, author of We Were Here and I Will Save You

"In a crackling voice that will draw readers into the story and keep them there until the final page, Love Maia skillfully portrays the passion of pursuing a dream, and the difficulties that come with trying to hold on to it."—Tim Tharp, author of The Spectacular Now

"Love Maia has created a star in Marley, someone who overcomes the odds, fights for his dreams, and isn't afraid to get lost in the music!"—Coe Booth, author of Tyrell and Bronxwood

"If--like me--you've been saved by music a trillion times, this rhythmic, pulsing, hip, and completely satisfying debut was spun just for you."—Matthew Quick, author of Boy21 and Sorta Like a Rock Star