Elsewhere: A Novel (Paperback)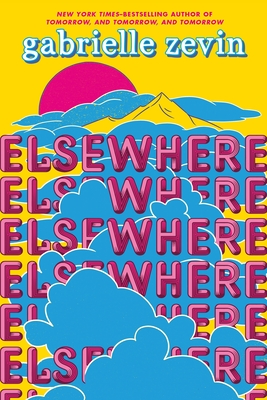 Description
---
Beloved by generations of readers, Gabrielle Zevin's Elsewhere is an original and unexpectedly moving novel about love, loss, and the meaning of it all from the New York Times best-selling author of Tomorrow, and Tomorrow, and Tomorrow and The Storied Life of A. J. Fikry.


Is it possible to grow up while getting younger?


Welcome to Elsewhere. The beaches are marvelous. It's quiet and peaceful. You can't get sick and you'll never get even one day older . . .


Elsewhere is where fifteen-year-old Liz Hall ends up, after she has died. It is a place so like Earth, yet completely different. Here, Liz will age backward from the day of her death until she becomes a baby again and returns to Earth. But Liz wants to turn sixteen, not fourteen again. She wants to get her driver's license. She wants to graduate from high school and go to college. And now that she's dead, Liz is forced to live a life she doesn't want with a grandmother she has only just met. And it isn't going well. How can Liz let go of the only life she has ever known and embrace a new one? Is it possible that a life lived in reverse is no different from a life lived forward?

A book that transcends genre and category, Elsewhere is a modern YA classic.
About the Author
---
Gabrielle Zevin is the New York Times and internationally best-selling author of several critically acclaimed novels, including The Storied Life of A.J. Fikry, which is now a motion picture, and Young Jane Young. Her most recent novel is Tomorrow, and Tomorrow, and Tomorrow, one of the best books of the year, according to the New York Times, the Washington Post, Time, Entertainment Weekly, the Atlantic, Oprah Daily, Slate, NPR, the Hollywood Reporter, and many other outlets. Her novels have been translated into forty languages. She lives in Los Angeles.
Praise For…
---
* A Time 100 Best Books of All Time*

"A work of powerful beauty. This inventive novel slices right to the bone of human yearning, offering up an indelible vision of life and death as equally rich sides of the same coin." —Booklist, Starred Review

"With an intriguing and well-developed premise, thoughtful characterization, and refreshing style, Zevin's poignant novel rewards readers with a view of death that celebrates the rich complexities of being alive." —The Horn Book, Starred Review

"Intriguing. Surely guides readers through the bumpy landscape of strongly delineated characters dealing with the most difficult issue that faces all of us. Provides much to think about and discuss." —School Library Journal, Starred Review

"Zevin's touch is marvelously light even as she considers profundities, easily moving among humor, wisdom and lyricism. . . . No plot synopsis can convey what a rich, wise spell this book casts." —The New York Times Book Review

"Elsewhere is a funny, fast-paced, and fascinating novel. The concept is completely out there and yet the emotions are so weirdly realistic. I loved reading the story of Liz's life (death?)." —Carolyn Mackler, author of The Earth, My Butt, and Other Big Round Things and Vegan Virgin Valentine

"An unusual premise and a thoughtful treatment make Zevin's first effort at writing for young adults a success. Will captivate teens ready for a thought-provoking read. Hopeful and engaging." —Kirkus Reviews

"Funny and pensive, happy and heartbreaking. Readers from a broad range of beliefs will find this a quirky and touching exploration of the Great Beyond." —The Bulletin of the Center for Children's Books

"Fascinating. Zevin, in her first novel for young people, bends the laws of physics and biology to create an intricately imagined world." —Publishers Weekly

"A fun and thought-provoking page-turner. Readers . . . will relish Zevin's lively imagination and her fast-moving plot. Buy this book for them." —VOYA

"Great humor and speculation, on pets as well as people." —Chicago Tribune

"Zevin presents an intriguing concept of the afterlife in her first novel for young adults." —Cleveland Plain Dealer (paperback edition review)

"A charming story about growing up, Elsewhere encourages the reader to look toward the future and to expect the unexpected." —Armchair Interviews (paperback edition)