Unfinished Gestures: Devadasis, Memory, and Modernity in South India (South Asia Across the Disciplines) (Hardcover)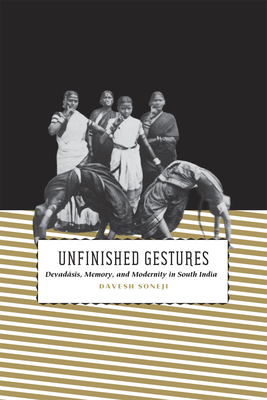 Description
---
 Unfinished Gestures presents the social and cultural history of courtesans in South India who are generally called devadasis, focusing on their encounters with colonial modernity in the nineteenth and early twentieth centuries. Following a hundred years of vociferous social reform, including a 1947 law that criminalized their lifestyles, the women in devadasis communities contend with severe social stigma and economic and cultural disenfranchisement. Adroitly combining ethnographic fieldwork with historical research, Davesh Soneji provides a comprehensive portrait of these marginalized women and unsettles received ideas about relations among them, the aesthetic roots of their performances, and the political efficacy of social reform in their communities. Poignantly narrating the history of these women, Soneji argues for the recognition of aesthetics and performance as a key form of subaltern self-presentation and self-consciousness. Ranging over courtly and private salon performances of music and dance by devadasis in the nineteenth century, the political mobilization of devadasis identity in the twentieth century, and the post-reform lives of women in these communities today, Unfinished Gestures charts the historical fissures that lie beneath cultural modernity in South India.
About the Author
---
Davesh Soneji is associate professor of South Asian religions at McGill University. He is coeditor of Performing Pasts: Reinventing the Arts in Modern South India and editor of Bharatanatyam: A Reader.
Praise For…
---
"This book offers fresh and thought-provoking insight into the cultural, political, and economic history of the so-called devadasis in South India over the past 200 years. . . . By combining analyses of courtly archives, literary sources, and personal records with ethnographies, Soneji shifts attention away from institutional, patriarchal power and the middle-class moral economy of 'rescuing' a (fallen) tradition in favor of emphasizing the resilience of nineteenth- and twentieth-century women as they encountered colonial modernity."
— Religious Studies Review
"Soneji provides an exhaustive historical account of devadasi beginning with the nautch girls of colonial Tanjore leading up to the 1947 law criminalizing the devadasi lifestyle as a form of prostitution…. [He] documents their real and imagined positioning in postcolonial India through a historical framework supplemented by first-person accounts by those from the community and with descriptions of performances he attended."  
— C. Gillitt
"Weaving together history, literature, ethnography, and ethnomusicology, Davesh Soneji's impressive work, 
Unfinished Gestures
, showcases the heterogeneity, hybridity, and ingenue of India's 
devadasi
 artists in the colonial period and beyond. . . . Davesh Soneji's painstaking archival data, music excerpts, and fluid linguistic engagement with Tamil, Telugu, Sanskrit, Hindi, Persian, and European-language materials make this book's narration of 
devadasis
' history vivid and compelling
.
"
— Arthi Devarajan
 "This pioneering work reveals the complex cultural and social history of classical South Indian music and dance as they evolved over the last three centuries. By intense fieldwork with the last surviving artistes from the world of traditional temple and salon performance, and through painstaking study of the primary sources in Tamil and Telugu, Soneji reconstructs the heartbreaking story of the so-called devadasis, including their marginalization at the hands of a prudish colonial government and a puritanical, Anglicized elite. He has opened a window to a musical world of astonishing richness and expressive power and to an aesthetic sensibility that has largely disappeared, and he has explained the social and cultural processes that undermined that sensibility and, indeed, the entire cultural system in which it once flourished. Anyone who has discovered the great power of Karnatak music should read this book in order to understand how this refined tradition acquired its present public forms, and in order to get beyond the standard, highly distorted narrative of its origins. Soneji is the foremost historian of this musical world as it developed from late medieval to early modern modes of performance."
— David Shulman, Hebrew University Jerusalem
"Unfinished Gestures is an important and original book, both lively and learned, that offers a new perspective on the professional artists/courtesans of South India known as devadasis. Where earlier constructions—and critiques—of the roles and identities of devadasis have focused on the uncomfortable juxtaposition of religion and sex that these women seem to represent, Soneji's extensive archival and ethnographic research allows for a far more nuanced and complete understanding of the aesthetic, economic, and social dimensions of the lives of devadasis in the last two hundred years. Soneji enriches our knowledge of the history of the devadasis in the unexplored eras of late colonial Tanjore and Madras, and provides us with a rare sense of these women's self-understandings, in the past and in the present. Locating the devadasis within the complexities of gender and nation, caste and religion, this volume not only makes an exciting contribution to the study of India's history, but illuminates the ambiguities and still-unfinished projects of the India of today." —Leslie C. Orr, Concordia University
— Leslie C. Orr
"Sensitive, sympathetic, and very well-written, Unfinished Gestures moves the debate about devadasis in a new and interesting direction and will be the standard bearer in the field. Soneji's ethnographic work supports his historical claims and brings to life the poignancy of contemporary devadasis' lives."
— Janaki Bakhle, Columbia University