The Best American Food Writing 2023 (Paperback)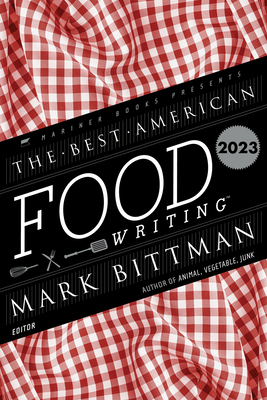 Description
---
"Excellent....Taken as a whole, the volume moves beyond food's sensory pleasures to investigate it as a cultural vessel, a symbol of inequality, and more. It's a standout addition to the series." —Publisher's Weekly (starred review)
A collection of the year's top food writing, selected by prolific food writer and author of How to Cook Everything Mark Bittman.
"In almost any culture, at any time, you can find food writing," writes guest editor Mark Bittman in his introduction. "Food means growing and hardship, and health and medicine, and work and holiday. In its abundance it is a gift and a joy, and in its absence a curse and a tragedy. If a culture has writing, that culture has food writing." The stories in this year's Best American Food Writing are brilliant, eye-opening windows into the heart of our country's culture. From the link between salt and sex, to Syrian refugees transforming ancient Turkish food traditions, to the FDA's crusade on alternative non-dairy milk options, to Black farmers in Arkansas seeking justice, the scope of these essays spans nearly every aspect of our society. This anthology offers an entertaining and poignant look at how food shapes our lives and how food writing shapes our culture. 
THE BEST AMERICAN FOOD WRITING 2023 INCLUDES JAYA SAXENA • LIGAYA MISHAN • MARION NESTLE TOM PHILPOTT • WESLEY BROWN • ALICIA KENNEDY CAROLINE HATCHETT • AMY LOEFFLER and others  
About the Author
---
MARK BITTMAN, guest editor, is the author of more than thirty books, including the How to Cook Everything series and the #1 New York Times bestseller VB6: Eat Vegan Before 6:00 to Lose Weight and Restore Your Health . . . for Good. He was a food columnist, an opinion columnist, and the lead magazine food writer at the New York Times, where he started writing in 1984 and remained for more than thirty years.
SILVIA KILLINGSWORTH, series editor, is an executive editor at Bloomberg News and a former editor at The Awl and The Hairpin. Prior to that she was the managing editor at The New Yorker and wrote regularly for their magazine and website. She lives in Westchester County, New York. 
Praise For…
---
"[A] wonderfully satisfying assortment of food for thought." — Publishers Weekly on Best American Food Writing 2019