Driving the Green Book: A Road Trip Through the Living History of Black Resistance (Hardcover)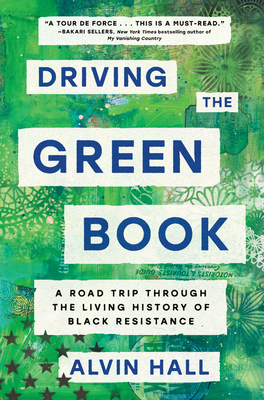 Description
---
Join award-winning broadcaster Alvin Hall on a journey through America's haunted racial past, with the legendary Green Book as your guide.
For countless Americans, the open road has long been a place where dangers lurk. In the era of Jim Crow, Black travelers experienced locked doors, hostile police, and potentially violent encounters almost everywhere, in both the South and the North. From 1936 to 1967, millions relied on The Negro Motorist Green Book, the definitive guide to businesses where they could safely rest, eat, or sleep. 
Most Americans only know of the guide from the 2018 Green Book movie or the 2020 Lovecraft Country TV show. Alvin Hall set out to revisit the world of the Green Book to instruct us all on the real history of the guide that saved many lives. With his friend Janée Woods Weber, he drove from New York to Detroit to New Orleans, visiting motels, restaurants, shops, and stores where Black Americans once found a friendly welcome. They explored historical and cultural landmarks, from the theatres and clubs where stars like Duke Ellington and Lena Horne performed to the Lorraine Motel where Dr. Martin Luther King, Jr. was assassinated. Along the way, they gathered memories from some of the last living witnesses for whom the Green Book meant survival—remarkable people who not only endured but rose above the hate, building vibrant Black communities against incredible odds.
Driving the Green Book is a vital work of national history as well as a hopeful chronicle of Black resilience and resistance.
The book contains 25 outstanding black and white photos and ephemera.
About the Author
---
Alvin Hall is an award-winning television and radio broadcaster, author, political activist and renowned financial educator. His numerous radio programs include The Tulsa Tragedy that Shamed America, The Green Book, and Jay-Z: From Brooklyn to the Board Room, all on BBC. For five years he hosted the highly rated and award-winning BBC series Your Money or Your Life. He lives in New York City.
Praise For…
---
"Alvin Hall's Driving the Green Book is a tour-de-force blending exhaustive research, exquisite writing, and emotionally resonant visuals. The book is also a testament to Black resilience during the Jim Crow era, the strategic thinking that helped Black families not only endure but to prevail over tyrannical anti-Black laws, and the ingenuity that held Black communities together from east to west, north to south. This is a must-read." — Bakari Sellers, New York Times bestselling author of My Vanishing Country 
"Alvin Hall's thrilling, deeply researched and illuminating exploration of the world of the Green Book – revealing, enraging and inspiring in equal measure – is a journey all Americans must take. Nothing tells us more about the country we have been, the country we remain in so many ways, and the country we should aspire to be." 
— Ric Burns, filmmaker
"A historical examination of a sublime act of Black resistance. . . . Driving the Green Book paints a painful picture of one aspect of the oppression Blacks endured during Jim Crow, while also illustrating the power of the human spirit to subvert an unconscionable system and still experience joy."  — Atlanta Journal-Constitution
  "This smart, lively, and timely book is a testament to friendship and self-discovery and a reminder that the road to racial progress has been marked by dead ends and wrong turns. And yet there are so many beautiful and brilliant stories in these pages of family joy, courage, defiance, and triumph over the many racist indignities along the North/South highways of Jim Crow America, I couldn't put the book down. Driving the Green Book is a terrific place to start your own journey to understanding the nation's recent past and to chart a course for a better future." 
— Khalil Gibran Muhammad, former Director of the Schomburg Center for Research in Black Culture.
"Illuminating. . . . Hall pays moving tribute to the ingenuity and resourcefulness of Black Americans who hit the road, despite the dangers. This historical travelogue inspires and educates." — Publishers Weekly
"Driving The Green Book is an extraordinary journey through history exploring Black Americans' 400 year tradition of providing safety, shelter, survival, and sanctuary for our community in our quest to live the American dream. The book is beautifully written, educational and inspiring."
— Emil Wilbekin, Founder of Native Son 
"Revisiting a vital resistance and survival tool for Black Americans….A hard-charging resurrection of Black lives in Jim Crow America." — Kirkus Reviews
"This book provides a window into an overlooked position that discrimination forced Blacks into. . . . This well-written account will appeal to readers interested in civil rights, Black history, and travel literature." — Library Journal (starred review)
 "Compelling . . . a book that brings history to life, while also reminding us that history is not so far in the past."  — Book Riot
"Required Reading: 10 Black Authors to Get into in January 2023." — Ebony
"Readers who love to travel will want to tuck this in their carry-on or console. If there's a bit of quiet activism inside you, "Driving The Green Book" will fuel it." — Terri Schlichenmeyer, The Bookworm Sez, syndicated column