Plus One (Hardcover)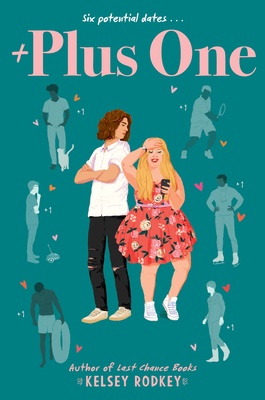 Description
---
Fans of Emma Lord and Rachel Lynn Solomon will revel in Kelsey Rodkey's latest swoon-worthy YA rom-com as self-proclaimed matchmaker Lahey finally puts her own heart on the line—to find a date in just one week.
Lahey Johnson is notorious for helping her friends and classmates find love, but she's never had a reason to focus on her own love life. Until now. When her detested cousin Summer decides Lahey doesn't need a plus one to her sweet sixteen, Lahey has the ultimate reason: revenge.
Lahey will do anything to prove that she can get a date to Summer's party—anything, including juggle six prospective suitors in seven days.
The only issue? Her sister's irritating friend Adler has decided to take a front-row seat to the spectacle that is Lahey's life. Lahey is determined not to let him distract her from one-upping Summer. But as the party creeps closer, the panic sets in. Can a matchmaker ever really meet her own match?
Last Chance Books author Kelsey Rodkey delivers another perfect read for all who love their romance with a side of repartee.
About the Author
---
Kelsey Rodkey is a burrito lover and banter enthusiast striving to create the stories she lacked as a teenager. She lives near the capital of Pennsylvania, which a lot of people think is Philadelphia, with her significant other and their cat, Cheese. Last Chance Books is her first novel. Follow her at www.kelseyrodkey.com.
Praise For…
---
"Lahey's on a journey to balancing her outgoing, upbeat, body-positive identity with her acute awareness of the world's judgment of fat girls like herself, developing true self-esteem. When she does find love, it's by recognizing what she needs and deserves. A romantic journey of self-growth." — Kirkus Reviews
"A breezy, summertime romp that will have you laughing (and swooning!) from the first page, Plus One is an ode to messy girls who are deserving of love exactly as they are. Kelsey Rodkey is forever an auto-buy author of mine!" — Marisa Kanter, author of As If On Cue
Praise for A Disaster in Three Acts: "Every bit as charming as its title. With a great cast of characters, Kelsey Rodkey has crafted a story that is heartfelt, fun, and dizzyingly romantic, perfectly blending moments that will bring you to tears and double over with laughter." — Rachael Lippincott, #1 New York Times bestselling author of Five Feet Apart
"It's rare that a YA novel so effortlessly transports me back to high school, and A Disaster in Three Acts did it instantly. A perfect balance of humor and heartbreak, filled with crackling romantic tension, vividly drawn characters, and a tender emotional core. This is a book bursting with love." — Rachel Lynn Solomon, New York Times bestselling author of See You Yesterday
"Full of banter, wit, and charm, Plus One is absolutely unputdownable. A perfect love letter to the disaster in all of us." — Jennifer Dugan author of Some Girls Do
"Rodkey explores the messiness of feelings—including growing pains and miscommunication—through flawed characters who don't always take the easy road... A rom-com that deftly hits many emotional beats." — Kirkus Reviews
"Full of addictive banter, achingly real characters fumbling and faking their way towards self-acceptance, and a thoroughly satisfying slow burn romance that delivers all the feels. An absolute delight that will linger long after the last page." — Monica Gomez-Hira, author of Once Upon a Quinceañera
"Kelsey Rodkey's signature wit shines in this hilarious and heartfelt YA romcom. Readers will fall in love with Saine as she navigates her growing feelings for her ex-friend turned friend's ex, and the often complicated ways we figure ourselves out by letting others in." — Sonia Hartl, author of Have a Little Faith in Me and The Lost Girls
Praise for Last Chance Books: "Packed with smart humor and sparkling prose, Last Chance Books strikes both the funny bone and the heartstrings. You'll root for Madeline as old and new relationships thwart her fight to save her family's bookstore. A delightful read." — Laura Taylor Namey, New York Times bestselling author of A Cuban Girl's Guide to Tea and Tomorrow
"A charming, hilarious debut that pays tribute to You've Got Mail while feeling uniquely modern. Kelsey Rodkey's banter is what romcom dreams are made of, and Madeline and Jasper are so perfectly matched that I nearly perished while waiting for them to kiss. (And oh, they do.) An instant favorite."  — Rachel Lynn Solomon, New York Times bestselling author of See You Yesterday
"Madeline is quick-witted, bright, and passionate... a lighthearted page-turner." — School Library Journal
"This enemies-to-lovers romance includes a business rivalry, a deadbeat mom, and a last-gasp attempt to save a family store... A solid rom-com." — Kirkus Reviews
"The You've Got Mail-style romance is well-executed in this debut." — Publishers Weekly
"Rooted as much in family as it is in cute banter, book nerdery, and sexual tension... You've Got Mail for teens."? — Booklist