Last Things (Paperback)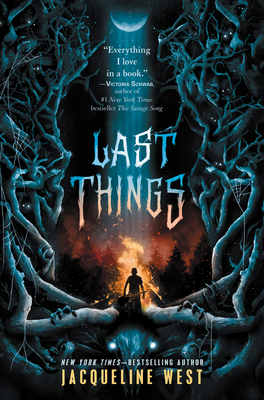 Description
---
"Everything I love in a book."—Victoria Schwab, author of #1 New York Times bestseller This Savage Song
"The kind of taut, atmospheric thriller that gets your heart racing and sets your imagination on fire. Sensational."—Claire Legrand, New York Times-bestselling author of Furyborn
Finalist for the Minnesota Book Award
New York Times–bestselling author Jacqueline West captivates readers with a dark, hypnotic story about the cost of talent—and the evil that lurks just out of sight. Fans of Holly Black and Victoria Schwab will be mesmerized by this gorgeous, magnetic novel.
High school senior Anders Thorson is unusually gifted. His band, Last Things, is legendary in their northern Minnesota hometown. With guitar skills that would amaze even if he weren't only eighteen, Anders is the focus of head-turning admiration. And Thea Malcom, a newcomer to the insular town, is one of his admirers. Thea seems to turn up everywhere Anders goes: gigs at the local coffeehouse, guitar lessons, even in the woods near Anders's home.
When strange things start happening to Anders, blame immediately falls on Thea. But is she trying to hurt him? Or save him? Can he trust a girl who doesn't seem to know the difference between dreams and reality? And how much are they both willing to sacrifice to get what they want? 
Told from Anders's and Thea's dual points of view, this exquisitely crafted novel is full of unexpected twists and is for fans of Holly Black's The Darkest Part of the Forest and Melissa Albert's The Hazel Wood.
About the Author
---
Jacqueline West is the author of the New York Times-bestselling middle grade series The Books of Elsewhere, the Schneider Family Book Award Honor Book The Collectors, and several other novels for young readers and teens. An award-winning poet and occasional actress, she lives with her family in Red Wing, Minnesota.
Praise For…
---
"West has an eerie way with words, an uncanny ability to conjure the perfect image. Last Things is at once poetic and urgent, evocative and authentic, everything I love in a book." — Victoria Schwab, author of #1 New York Times bestseller This Savage Song
"I devoured this book in a day. Told in evocative, spare prose through the eyes of two complex teens who ache and yearn and are jaw-droppingly brave, Last Things is the kind of taut, atmospheric thriller that gets your heart racing and sets your imagination on fire. Sensational." — Claire Legrand, New York Times-bestselling author of Furyborn
"West goes for a slow build while framing her two narrators as one music-smitten teen approaching a realistic stay-or-go crossroads in his life and another who could well be just an oddball....Come the wild, scary climax, Thea turns out to be much more than she appears.... A suspenseful tale wrought from power chords, creeping darkness, and disquieting twists." — Kirkus Reviews
"West uses evocative language, including song lyrics, to enhance the ominous atmosphere in this updated Faustian thriller; her pitch-perfect depiction of music conjures pulse-pounding concerts and Anders's passion for metal. A dark and lovely saga, ideal for fans of Brenna Yovanoff and Holly Black." — ALA Booklist
"The action escalates like the fast-paced chords of a heavy metal bassline. . .What survives in a contest between fame and freedom might be the last choice for the protagonist. Hand this. . .to fans of mystery, music, and horror." — School Library Journal